Groupe Ludendo buy Britain's most famous toy brand, including flagship Regent Street store, for sum in region of £60m.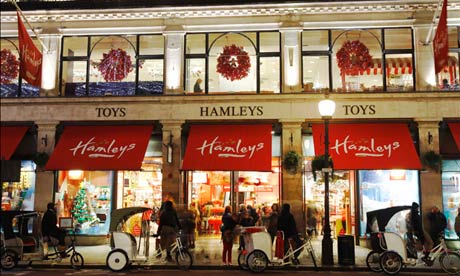 Hamley's, Britain's most famous toy shop, has been sold to a French company for an estimated £60m.
The 250-year old store, which has mesmerised generations of children with its seven storeys of
toys and games
on Regent Street in London, was taken over by Groupe Ludendo, which operates 300 toy shops across France, Belgium, Switzerland and Spain.
The sale is the latest episode in the store's turbulent recent ownership history after attempts to modernise and reinvent itself. The brand began life in 1760 when William Hamley founded a toy shop called Noah's Ark at 231 High Holborn, London.
Read More -
http://www.guardian.co.uk/lifeandstyle/2012/sep/17/hamleys-toys-sold-to-groupe-ludendo?newsfeed=true